Boost for e-waste recovery project
|
By Nadia Krige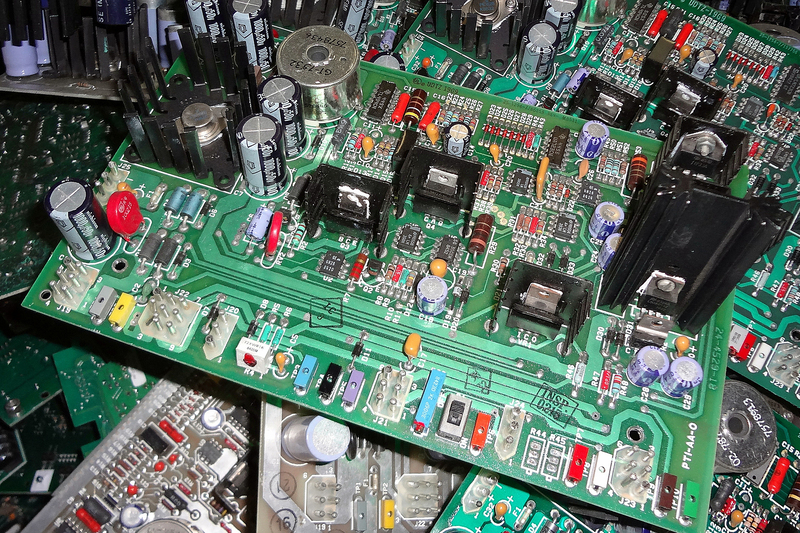 ---
A University of Cape Town (UCT) project focusing on the recovery of valuable metals from e-waste through small-scale, local recyclers is among six recipients of the 2020 German-African Innovation Incentive Award (GAIIA). Professor Jochen Petersen from the UCT Department of Chemical Engineering, who heads up the project, is working with collaborators in Germany to develop a process to allow recyclers to selectively recover metals from e-waste on a small scale.
Staying abreast of technology is viewed as a necessity for many businesses and individuals. This culture of upgrading has left a massive electronic waste (e-waste) problem in its wake.
However, when disposed of in the correct manner and with all the necessary precautions, e-waste offers a valuable secondary resource for precious metals such as copper and gold.
Along with Professor Bernd Friedrich from the Institute for Process Metallurgy and Metals Recycling (IME) at the Rheinisch-Westfälische Technische Hochschule (RWTH) Aachen University in Germany, Petersen intends to develop technology for the systematic recovery of valuable metals from electronic waste through small-scale recyclers in South Africa.
When disposed of in the correct manner and with all the necessary precautions, e-waste offers a valuable secondary resource for precious metals such as copper and gold.
The project, Value Recovery from e-Waste in Africa (VaReeWA), was recently named one of six recipients of the 2020 German-African Innovation Incentive Award (GAIIA). The award – to the value of EUR150 000 per recipient – is presented to cooperative projects between Germany and African countries on the basis of excellent research results with high exploitation potential. Criteria for the selection of GAIIA projects include contributing to the implementation of the Sustainable Development Goals, as well as job creation and strengthening of innovation capacities in the African partner country.
Among other things, the award will enable the VaReeWA research team to support technology development among small-scale South African recyclers, and in so doing, create local business opportunities.
Urban mining
Growing by 3% to 5% each year, it is estimated that over 50.2 million tonnes of e-waste will be generated by 2021. E-waste contains valuable metals and thus represents a significant secondary resource for metals that could supplement existing mining operations and help to make the industry more sustainable.
The practice of recovering useful minerals from post-consumer waste – mostly by recycling what would otherwise end up in landfills – is known as urban mining.
"VaReeWA focuses on electronic printed circuit boards, which contain primarily copper and gold as well as a suite of other metals in much higher concentrations than we find them in their corresponding ores," explains Petersen, who is also the director of the UCT Minerals to Metals Initiative and the Hydrometallurgy Research Group, as well as the Department of Science and Technology/National Research Foundation South African Research Chair in Minerals Beneficiation.
Currently, the most common method for extracting these metals is through a smelting process that requires relatively large-scale operations. The associated costs of collection and transportation of e-waste would simply not be viable in an African context.
Introducing a small-scale approach
Petersen and Friedrich have developed an alternative way to extract metals from e-waste that would allow small-scale urban and regional recyclers to selectively recover valuable metals on a small scale.
"We are developing the complete process flowsheet based on the same chemistry used in the manufacture of printed circuit boards," explains Petersen. "Therefore, in a way, VaReeWA is reverse engineering the circuit boards."
The process involves submerging e-waste scraps in aqueous chemical solutions.
"We had already established proof of concept at UCT prior to applying for the GAIIA award."
"It is an opportunity to increase the contribution of local industries to the growth of a secondary resource economy and create much-needed jobs."
A local electronics manufacturer as well as a number of e-waste collection and recycling organisations have already started collaborating in developing this process. Friedrich and his team – with their expertise in the thermal pre-treatment of e-waste scraps, which facilitates the subsequent metal recovery – will share their technical know-how with their South African recycling partner.
"The project will also look at the supply chain of such a process," says Petersen. "This includes the local collection and preparation of the feed material as well as returning the final products to the local market, such as copper foil for speciality manufacturing and gold for jewellery."
VaReeWA ties in closely with a number of other projects Petersen is currently working on.
"We have just appointed Dr Thandazile Moyo as a research officer with the Minerals to Metals Initiative. She will be the overall project manager on the combined waste recovery research projects," says Petersen.
Moyo is excited about being part of work that aims to grow the secondary resource economy and create jobs in South Africa.
"Research into the development of technologies that are accessible to local recyclers is something close to my heart," she says. "It not only promotes the sustainable management of resources, but also promotes the growth of local, small-scale industries, job creation and up-skilling of otherwise low-skilled workers.
"It is an opportunity to increase the contribution of local industries to the growth of a secondary resource economy and create much-needed jobs."
Source: University of Cape Town
Image Source: Pxhere